Welcome to Campbell Piano Shop where every aspect of piano care – from Piano Rebuilding to expert Tuning – is a one-of-kind signature service.
We launched Campbell Piano Shop with the goal of blending traditions from the past 250 years in piano design and tone with the advances in the sciences and physics to create services for the maintenance of your piano that will have you enjoying those magical experiences in music.
Owner J. Mark Campbell is a Piano Designer/Rebuilder, Tuner, Registered Piano Technician, and pianist whose focus is centered on the quality of sound and ease of expression in each instrument he touches. His knowledge of piano tone, keen musical ear, along with experience in engineering, creative design, and woodworking help him produce instruments that you will enjoy hearing and playing. Piano technician, researcher, semi-professional musician, software engineer, and woodworker, Mark will use his skills to make your piano sound and play like the grand instrument it should be.
Tired upright or a worn out concert grand, we want you to enjoy beautiful music and love your piano again.
Campbell Piano Shop is based in southern Colorado and serves Colorado Springs, Denver, the Front Range, and surrounding states.
Technical Services BY APPOINTMENT TUNNING & MAINTENANCE VOICING & TONE REGULATION ACTION…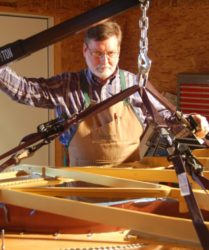 There it sits.  Your mother's grand piano used to entertain guests with her…